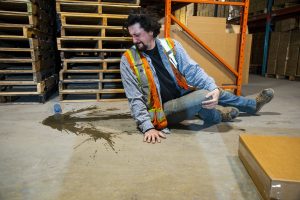 Property owners must maintain their premises in a reasonably safe condition. When property owners are careless in the maintenance and inspection of their property, dangerous conditions develop, which can cause people to slip, trip or fall, or causing serious injury.
If you have been injured in a premises liability accident, contact our skilled personal injury attorneys for a free case evaluation.
Results of Our Personal Injury Suffolk County Lawyers
---
$2,558,000 Back injuries sustained by elevator mechanic who fell through a defective hatch
$1,000,000 Plumber who fell through a staircase
---
Causes of Premises Liability Accidents:
Loose steps or railings
Loose or damaged floorboards or carpeting
Slippery or icy conditions
Falling debris from walls or roofs
Defects in pavement
Insufficient lighting

Elevator and escalator accidents
Swimming pool accidents
Amusement park accidents
Dangerous playground equipment
Lack of security in high-crime areas
Private property owners, business owners, and municipalities must exercise care to protect those who enter their property from dangerous conditions. Careless property owners needlessly endanger innocent people by exposing them to risks of serious personal injury.
Contact our New York premises accident lawyers for a free consultation
Fox Law Firm PLLC has litigated many actions on behalf of people injured due to defective conditions on parking lots, playgrounds, schools, stores, and private homes. The respected personal injury attorneys represent premises accident victims on Long Island, in New York City, and in Riverhead while seeking compensation that fully addresses their injuries.
Our firm uses a network of experts specializing in Architecture, Engineering, Human Factors Research, Safety Regulations, and Property Maintenance to investigate and litigate actions arising from unsafe premises.
To schedule a free initial consultation to see how we can help, please call 631-779-3400 or contact us online. We handle all injury cases on a contingency fee basis, which means you don't pay attorney's fees unless we obtain compensation for you.